CFCA (Centre Fiduciaire et Comptable d'Alsace) claims its origins and family spirit.
Henry Bacher set up the activity of Certified Public accountant in St Louis in 1961, an alsacian city located nearby Basle (Switzerland) which benefits of a dynamic and a wide range of economical network.
CFCA is established in 1969. Its present president Jean-Frédéric Bacher joined the company in 1997, followed by his wife Anne-Gaëlle Goujon in 2000, being herself Certified Public accountant and Statutory Auditor. You may be a self-employed entrepreneur or a 5000 employee company, you will receive a particular attention corresponding to your expectations. In almost half a century , CFCA grew along with its customers, naturally developed its expertise in order to anticipate their need. Our team consists of 25 professionals among them we can count two Statutory Auditors, three lawyers specialized in business and tax law. Since 2014, the firm has also an office located in Mulhouse.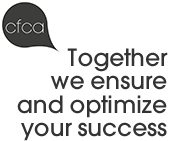 24 avenue de Bâle
68300 Saint-Louis
France
Tél. : +33 (0)3 89 69 21 87

22 rue de la Sinne
68100 Mulhouse
France
Tél. : +33 (0)3 89 56 50 60